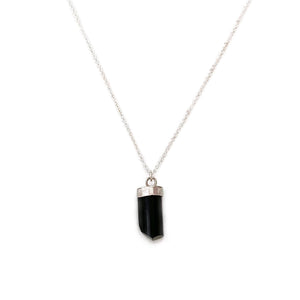 S for Sparkle
Raw Black Tourmaline Necklace
Regular price
$52.00
$0.00
Introducing our exquisite Raw Black Tourmaline Necklace: A Powerful Symbol of Protection and Grounding. Handcrafted with unparalleled precision and adorned with genuine Black Tourmaline gemstones, this necklace effortlessly blends elegance with strength. Experience the harmonizing energy of Black Tourmaline as it shields against negativity, purifies emotions, and keeps you grounded. Immerse yourself in the beauty and sophistication of S for Sparkle's high-quality jewelry, and embrace the transformative power that this necklace bestows upon the modern woman. Discover true elegance and strength with our Raw Black Tourmaline Necklace – a radiant symbol of confidence and grace.
Details
- Genuine Raw Black Tourmaline
- Raw Black Tourmaline size: approximately 17 mm by 6 mm
- Made in gold filled, sterling silver or 14k solid gold
- Single size 18"
- Let us know if you need a different size
Black Tourmaline Properties
- Black Tourmaline protects against negativity.
- It keeps you grounded.
- It cleanses negative emotions.
- Black Tourmaline can break once it's saturated with negative energy.
- It's a root chakra stone.
---
More from this collection