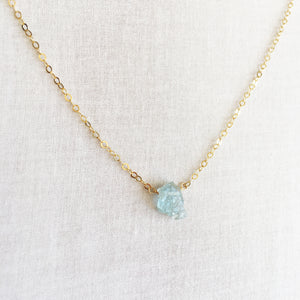 S for Sparkle
Raw Aquamarine Necklace
Regular price
$46.00
$0.00
Introducing our exquisite Raw Aquamarine necklace, a true gemstone of empowerment and grace. This enchanting piece not only showcases the beauty of March birthstone, but it also serves as a powerful tool for self-expression. Its delicate yet captivating raw aquamarine crystals emanate a calming energy that balances the chakras, promoting harmony and a sense of inner peace. Adorn yourself with this dainty yet potent necklace and let its genuine aquamarine gems spark your confidence and inspire your journey towards self-discovery.

Details
- Genuine Raw Aquamarine
- Aquamarine size: approximately 11 mm by 7 mm
- Made in gold filled, sterling silver or 14k solid gold
- Single size 16" or 18"
- Let us know if you need a longer size


Aquamarine Properties 
- It promotes self-expression
- It helps easing phobias & anxiety
- It helps balancing chakras energy 
- It's a throat chakra stone


Aquamarine Special Meaning
- March birthstone
- 19th Wedding Anniversary
Beautiful Aquamarine
We ordered this as a gift and we are so thrilled with our purchase, absolutely stunning! And the personal attention from the seller is amazing, ensuring you receive quality service. She went above board to personally assist us. Highly recommend this seller! High quality jewelry and service!
Perfect in every way
Another beautiful piece of jewelry from Kate. I'm proud to wear her delicate designs. The color of this raw Aquamarine is simply stunning.
This isn't my birthstone, but I bought it because it was such a unique lovely gemstone. Helps with my anxiety also.
Great communication and working with me to get the right length. Appreciate the prompt communication and shipping. I'm a loyal fan ---
Thank you again!
Very cute
I love this necklace, it is very high quality and is rich in color and has a nice dainty look to it. I thought maybe looking at the pictures it might not be very comfy because of the edges but I actually wear it all the time and experience no discomfort!
Beautiful necklace, amazing customer service.
I bought this for my partner who lives in Barbados. The shipping was quick but then it was held there for no apparent reason for a long time. When I contacted the shipping company, they said I needed to go thru customs or go thru a business account. When I contacted customs, I heard nothing except I got told I had to pay a huge fee but also that I couldn't pay it with a US account. I got in touch with Kate and she contacted them for me and- with some gentle nudging- got it all worked out. I didn't even have to pay the fee.
So! I wouldn't recommend shipping something to Barbados but I would absolutely recommend buying anything and everything from this shop.
On top of that, my partner loves the necklace, which is high quality and absolutely GORGEOUS. I've bought from here before and you really get an excellent product for a great deal.
---
More from this collection