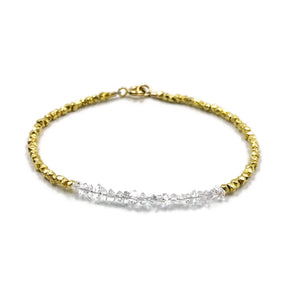 S for Sparkle
Nefertari Herkimer Diamond Bracelet
Regular price
$98.00
$0.00
This Herkimer Diamond bracelet is a classic piece of jewelry that is sure to suit any occasion. The double-terminated quartz crystals in this bracelet can help the wearer to cultivate spiritual energy and awaken their intuition.
Details
-  3x2mm herkimer diamond beads 
- 2mm 24k gold vermeil beads
- stainless steel soft flex wire
- Gold filled components
- 7" long


Herkimer Diamond Healing Properties
- Herkimer Diamond amplifies spiritual energy and the energy of other crystals.
- It facilitates spiritual growth and connection by opening and activating the higher chakras
- Herkimer Diamond helps you to gain a better understanding of yourself and your surroundings.

---
More from this collection