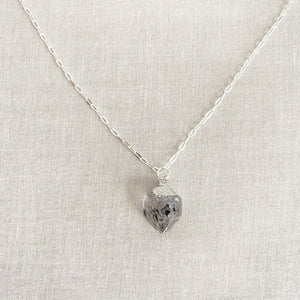 S for Sparkle
Herkimer Diamond Necklace
Regular price
$52.00
$0.00
Elevate your spiritual journey to new heights with our captivating Herkimer Diamond necklace. With its innate properties, this exquisite gem amplifies your spiritual energy, expediting the process of spiritual healing while increasing your psychic abilities. Its mystical aura deftly opens channels for spiritual energy to flow freely, allowing you to connect with the universe like never before. Expertly crafted with a delicate touch, this necklace speaks to the modern woman who has an appreciation for the finer things in life. Embrace the beauty and sophistication of this genuine gemstone, showcasing exceptional quality that is both powerful and graceful. At S for Sparkle, we believe in the empowering strength and confidence our pieces inspire – allow this necklace to nourish your spirit and uplift your soul.
 Details
- Genuine Herkimer Diamond beads
- Herkimer Diamond size: approximately 10 mm by 9 mm
- Made in gold filled, sterling silver or 14k solid gold
- Single size 18"
- Let us know if you need a different length

 Herkimer Diamond Properties
- It amplifies spiritual energy.
- It speeds up the process of spiritual healing.
- Herkimer Diamond increases your psychic abilities.
- It opening channels for spiritual energy to flow.
- It's a crown chakra stone 
Beautiful necklace
I bought the Herkimer diamond necklace and paired it with the separate Moldavite necklace .. both are absolutely beautiful.. excellent quality.. I plan on ordering more from here in the future
Love love
I bought one for myself and got so many compliments and ended up buying two more necklaces for my best friend and sister. Love the ethical sourcing and the instructions on how to care for the crystal and chains. Love this shop!
Herkimer Diamond Necklace
I love it so much! Beautiful! I wear it everyday ❤️
Herkimer Diamond
This necklace is beautiful! I feel so powerful when I wear it. The chain is a bit shorter than expected but can easily be changed.
Herkimer Diamond necklace
The product is stunning ! It was worth waiting ❤️
---
More from this collection