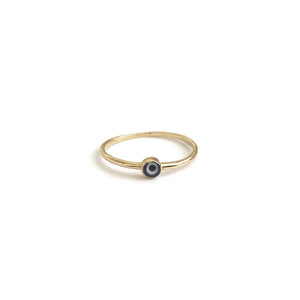 S for Sparkle
14K Evil Eye Ring
Regular price
$95.00
$0.00
Introducing our Dainty 14k Solid Gold Evil Eye Ring—a delicate yet powerful symbol of protection.
Handcrafted by a small family jewelry studio I discovered during my travels in Istanbul, this ring embodies the ancient belief in the Evil Eye—a talisman known for shielding against negativity.
Made from solid 14k gold, this petite ring features a beautifully detailed Evil Eye symbol with vibrant blue enamel. It's not just a fashion statement; it's a connection to tradition and a belief in its protective significance.

Details
- Evil Eye size is 2.5mm
- Made of solid 14k gold
- Available in sizes 4-9
Evil Eye meanings
- It protects against envy and negative energy.
- It's an amulet that can ward off evil spirits, curses, and misfortune.
- It helps you to maintain spiritual well-being.
---
More from this collection