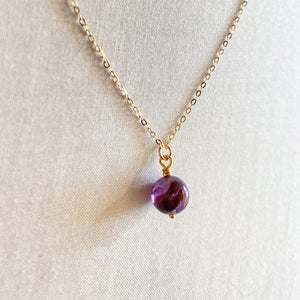 S for Sparkle
Auralite 23 Necklace
Regular price
$46.00
$0.00
This Auralite 23 necklace is made from a single genuine Auralite Amethyst crystal, approximately 8 mm. You can find 23 different type of minerals in this crystal. It's formed 1.2 billion to 2 billion years ago. The necklace is handmade in our San Francisco studio with careful craftsmanship, and the chain is available in different materials.
Auralite 23 Associations:
- Charka: Crown or Third Eye charka, but it is known to be beneficial for all charkas. 
- Zodiac: All zodiac signs. 
- Element: Water/ Wind.
 Auralite 23 Crystal Properties:

- It brings sacred healing and awakening to all aspects of being.
- It removes any attachments to self-limitation.
- It is one of the most powerful crystals to use when fighting against addictions of all sorts.
Joy
I LOVE my necklace!! Wearing this necklace brings joy to my soul!!!
Stunning
Absolutely love my necklace, got it in 14k gold and it definitely is gold, worth the price! Beautiful gem it's the perfect size. Customer service is also great.
Beautiful
High quality, beautiful specimen, i completely love it!
It helps with my anxiety I love it and I get complimented a lot for thank you!
BEAUTIFUL!!
My best friend bought me this necklace for Christmas and it was so beautiful. The quality is amazing and I'm in love with it. I will be buying more!
---
More from this collection