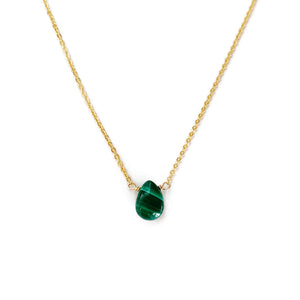 S for Sparkle
Malachite Necklace
Regular price
$46.00
$0.00
Malachite is a stone that helps to bridge the emotional heart, making it an excellent choice for anyone needing healing of emotional wounds. It can be used to facilitate meditation and visualization, as well as bring order to our inner worlds. Malachite is helpful in bringing hidden fears and subconscious issues to light, where they can then be dealt with in the light of day. This is a dainty Malachite necklace that is crafted with the utmost care in our San Francisco jewelry design studio.  Available in a 14k gold, gold fill or sterling silver chain.

Details
- Genuine Malachite 
- Malachite size: approximately 8 mm by 6 mm
- Made in gold filled, sterling silver or 14k solid gold
- Single size 16" or 18"

Special Care for Malachite 
Malachite is a copper ore which can be toxic if you use Malachite to make moon water. You should never shower with Malachite jewelry on nor cleanse Malachite in water.  
Malachite Crystal Properties
- It absorbs negative energy
- It help you to overcome fears associated with air travel
- Malachite protects against evil spirit
- Malachite facilitates deep emotional healing



Beautiful
My piece was received in mint condition. It's small and delicate and beautifully crafted. Love it!
---
More from this collection