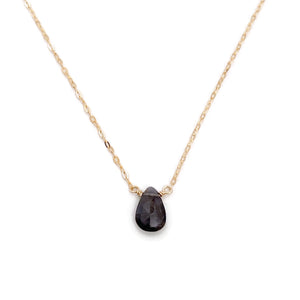 S for Sparkle
Iolite Necklace
Regular price
$46.00
$38.00
Introducing our mesmerizing Iolite Necklace, a testament to elegance and sophistication. Immerse yourself in the enchanting properties of this exquisite gemstone, as it activates your intuition and third eye, guiding you on a journey of self-discovery and inner wisdom. During challenging times, let the Iolite Necklace be your source of hope, infusing your spirit with resilience and strength. Experience enhanced mental clarity and a peaceful state of mind as this captivating necklace becomes your daily companion, inspiring confidence and grace every step of the way.

Details
- Genuine Iolite
- Iolite size: approximately 9 mm by 6 mm
- Made in gold filled, sterling silver or 14k solid gold
- Single size 16" or 18"
- Let us know if you need a longer size

Iolite Properties
- It activats intuition and third eye.
- It Instills hope during difficult times.
- It enhanced mental clarity.
- It promotes peaceful state of mind.
- It's third eye chakra stone.
---
More from this collection