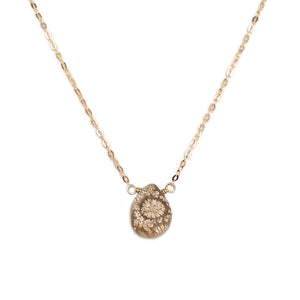 S for Sparkle
Fossil Coral Necklace
Regular price
$46.00
$0.00
This Fossil Coral necklace is made of high quality material, approximately 8mm by 6mm.  The real fossil Coral is between 225 million to 500 million years old.  We hand wire wrap with attention to detail. Using the best selected Fossil Coral and chain on this simple dainty necklace.

Fossil Coral Associations:
- Chakra: Heart and Solar Plexus.
- Zodiac: Taurus.
- Element: Water.
Fossil Coral Properties:
- It has been valued as a stone with the power to keep evil spirits away.
- It is beneficial for promoting peace as well as stopping disruptive thoughts.
- It is known to offer wisdom for success.
Love this!
This is a great necklace to wear on the daily, it complements anything you wear! Beautifully handcrafted, delicate, but sturdy! Thanks again for another beautiful piece of jewelry.
---
More from this collection