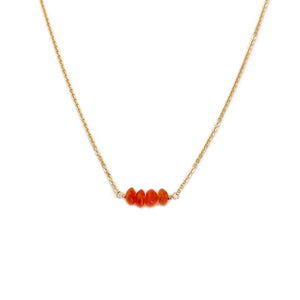 S for Sparkle
Carnelian Bead Necklace
Regular price
$42.00
$0.00
Elevate your energy, confidence, and allure with our Carnelian Bead Necklace. The fiery essence of genuine Carnelian gemstones lights a spark within, infusing you with an invigorating burst of vitality. Feel your inner radiance shine as Carnelian empowers you with a newfound confidence, making you irresistibly captivating to those around you. This enchanting necklace serves as a shield against envy, protecting your aura and allowing your unique brilliance to flourish. Embrace the strength and power of your voice, as Carnelian beads lend a commanding presence to your every word, leaving a lasting impression on all who listen. Adorn yourself with the exquisite beauty of our Carnelian Bead Necklace and let its empowering energy captivate your spirit.
 
Details
- Genuine Carnelian
- Carnelian size: approximately 4 mm by 3mm
- Made in gold filled, sterling silver or 14k solid gold
- single size 16" or 18"
- Let us know if you need a longer size


Carnelian Healing Properties
- Carnelian boosts your energy
- Carnelian makes you more confident and attractive to others
- Carnelian protects against envy
- Carnelian brings strength and power to your voice
- It's a sacral chakra
Great purchase
I absolutely love this necklace. It's so simple and elegant and works well with all my looks. It's literally perfect in every way, barely feels like anything is there. I highly recommend to everyone. Anyone who does get it, I recommend cleansing it and setting your intentions with it, loved that it came with a little guide for that, a very happy surprise with that one. :)
Absolutely love this
I ABSOLUTELY LOVE THIS NECKLACE. I rarely find gold jewelry where the chain doesn't tarnish but this is one is so dainty and delicate and doesn't tarnish I couldn't be happier. I suffer from severe back pain and ever since I've been wearing this necklace my back has never felt better. I've also noticed I've been getting a lot more attention lately. I recommend this necklace to everyone.
---
More from this collection