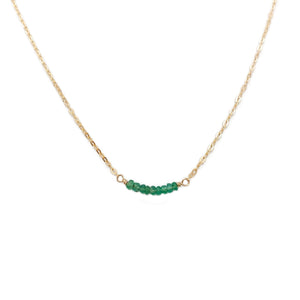 S for Sparkle
Emerald Bead Necklace
Regular price
$52.00
$0.00
Elevate your jewelry collection with our enchanting Emerald Bead Necklace. Crafted with genuine emerald beads of the highest quality, this necklace exudes elegance and sophistication. As the birthstone of May, emerald holds deep meaning and healing properties, symbolizing love, rebirth, and abundance. Allow the soothing energy of emerald to bring harmony and balance into your life, while radiating the strength and confidence that defines the modern woman. Embark on a journey of impeccable style and inner transformation with the Emerald Bead Necklace.
 
Details
- Genuine Emerald beads
- Emerald bead size: approximately 2mm by 2mm
- Made in gold filled, sterling silver or 14k solid gold
- Single size 16" or 18"
- Let us know if you need a longer size


Emerald Properties
- Emerald promotes love and compassion
- Emerald is the stone for love
- Emerald enhances partnership and unconditional love
- If Emerald changes color, it's said to signal unfaithfulness
- It's a heart chakra stone

 Special Meaning
- Emerald is May birthstone
- Emerald is 20th Wedding Anniversary gemstone
Perfect layering piece
I love this necklace! It's very delicate but perfect for layering or wearing with a collared shirt. The quality is good and you can't go wrong with gold and emerald.
Emerald Bead Necklace
My daughter-in-law's Colombian heritage was the inspiration for looking forward a birthday gift for her! I thought this was perfect and so did she!
---
More from this collection