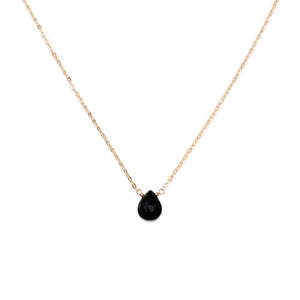 S for Sparkle
Black Onyx Necklace
Regular price
$46.00
$0.00
Discover the grounding power of our Black Onyx necklace, a harmonizing force that improves the harmony in your intimate relationships while providing a shield around your aura. Handcrafted with genuine Black Onyx, this enchanting piece nurtures a sense of balance and tranquility within you. Embrace the transformative energy of Black Onyx as you wear this necklace and allow it to guide you towards a more centered and fulfilling life.
Details
- Genuine Black Onyx
- Onyx size: approximately 10 mm by 8 mm
- Made in gold filled, sterling silver or 14k solid gold
- Single size 16" or 18"
- Let us know if you need a longer size
Black Onyx Properties
- It grounds you and absorbs excessive sexual desire.
- It help improving harmony in intimate relationships.
- It provides a shield around your aura
- Black Onyx is root chakra stone

A lovely addition
I've been enjoying pairing this with most of my outfits. It's subtle and classic while adding an oomph to an everyday look!
Black Onyx
The piece is beautiful, unfortunately i had to give it to my 6 year old niece because i erroneously chose the incorrect size but i gave it to her loves it and wears it everyday!
Black Onyx Necklace
Onyx is used for internal healing and I'm grateful I purchased this delicate necklace! It's even more beautiful in person and the first time I wore it, I felt stress reduction and grounding.
---
More from this collection