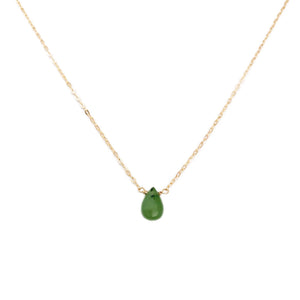 S for Sparkle
Canadian Nephrite Jade Necklace
Regular price
$52.00
$0.00
Step into a realm of timeless elegance and enchantment with our green Jade necklace. Crafted with genuine Canadian Nephrite Jade, revered for its extraordinary beauty and symbolic significance, this exquisite piece is more than just a necklace - it is a talisman of good luck, bringing blessings and prosperity into your life. With its tranquil aura, it uplifts and soothes the heart, providing solace during difficult times. Let this captivating Green Jade necklace be your graceful companion, offering protection from harm and empowering you with an undeniable sense of tranquility and inner strength. 

Details
- Genuine Nephrite Jade
- Jade size: approximately 9 mm by 6 mm
- Made in gold filled, sterling silver or 14k solid gold
- Single size 16" or 18"
- Let us know if you need a longer size

Green Jade Properties 
- It's a stone of good luck
- It brings tranquility and calm to difficult situations
- It protects from harm
- It It uplifts and soothes the heart
- It's a heart chakra stone
Makes the perfect gift!!
I do my best to find gifts that not only look beautiful, but also have a meaning behind them & this piece is perfect! I just gifted it to my sister for her birthday a few days ago and she loved it!! also the customer service was immaculate.. I needed guidance picking out a Stone for my sister, and I was given wonderful support!
Absolute yes!
Pictures of this piece just don't do it justice.
Absolutely stunning and GREAT quality. I wear it every day and it withholds the wear of every day life. Kate is VERY knowledgeable on her products/crystals & guided me choose this perfect fit. Very proud to support this business.
I love it !!
The necklace is light enough for people to notice but also light enough that it don't get in my way. I super love it! From the color, to the shape, I don't itch and it doesn't get caught up in my hair. It simply rests beautifully on my chest. The necklace is effortless! A classic ✨
---
More from this collection