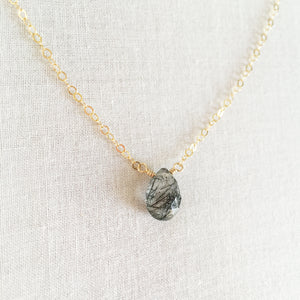 S for Sparkle
Black Rutilated Quartz Necklace
Regular price
$46.00
$0.00
The stone in this Black Rutilated Quartz necklace is made with a single genuine gemstone called Black Rutilated Quartz, approximately 9mm by 6mm. This healing quartz necklace has unique black lines through it caused by naturally occurring black tourmaline inside the quartz stone. 
Details
- Genuine Black Rutilated Quartz
- Black Rutilated Quartz size: approximately 10 mm by 8 mm
- Made in gold filled, sterling silver or 14k solid gold
- Single size 16" or 18"
- Let us know if you need a longer size

Black Rutilated Quartz Crystal Properties 
- It's the crystal for grounding and protection.
- It helps you discovering your spiritual purpose.
- It encourages you to look inward and accept responsibility for your life.
- It's a root chakra stone


my everyday necklace
I cannot even explain how much this necklace means to me. I got it around a year or two ago and haven't taken it off since. It's even more beautiful in person. I also really love the dainty unique look it gives off.
Love the unique look
I've always been a huge fan of rutilated quartz crystals (both the gold and black needles), so I was really excited when Kate started offering this piece on her website. This may be my favorite necklace from S for Sparkle yet! I love how it still is in a classy teardrop pendant, but when you look at it closer, you notice the nice contrast between the clear crystal and black needles.
---
More from this collection