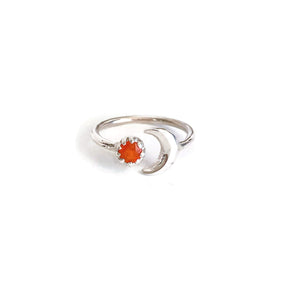 S for Sparkle
Carnelian and Moon Ring
Regular price
$38.00
$0.00
This Carnelian and Moon ring is made of genuine Carnelian crystal and sterling silver.   
DETAILS
- Genuine Carnelian 
- Adjustable
- Available in sizes 5-8
- Sterling silver or Gold vermeil


Carnelian Healing Properties
- Carnelian boosts your energy
- Carnelian makes you more confident and attractive to others
- Carnelian protects against envy
- Carnelian brings strength and power to your voice
Beautiful
This beauty fits perfect on any finger since it's adjustable. The small carnelian is beautiful and so dainty. I wear it every day!
The energy alone!
I bought this ring for my best friend, and she hasn't had time to come pick it up, so it's just been sitting in my house. I texted her, asking when she'd come over, and she tells me that in the mornings, when she puts her jewelry on, she reaches for the ring, and it's not there. Now mind you, she has not seen it yet, she saw the picture on the site, but she has not seen this specific ring. Now after she tells me about the jewelry, she tells me she's been dreaming about it. I believed her, obviously, but I was still very shocked. I've never experienced such a thing. A few nights ago, I had a dream of her and I hanging out for hours and just doing our thing, at the end of the dream I remember the ring and run to grab it, I give it to her and the dream ends. I've heard of the gem/mineral choosing the person, but I've never seen it so strongly! It is an absolutely beautiful experience to see.
This is not my first time buying from S For Sparkle. The last thing I bought was the Moldavite necklace in October of 2020, and it is still in beautiful condition. So I trust S For Sparkle's quality. It's also very nice just to see the success that the owner has made. When I got my Moldavite, it came in a little plain cardboard box, with stuffing to protect the jewelry, but now she has made the packaging much more professional and beautiful! So excited to see how you grow😊
Beautiful and Dainty!
I love the ring so much and have been wearing it since the day I got it! It's so dainty and beautiful! I will definitely buy other pieces from her for sure!
---
More from this collection