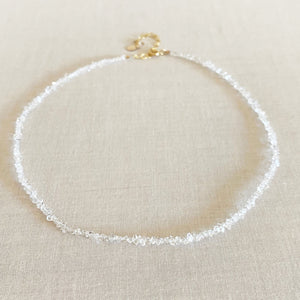 S for Sparkle
Herkimer Diamond Choker Necklace
Regular price
$98.00
$0.00
This Herkimer Diamond choker is dainty and adjustable. Herkimer Diamond is a high vibration crystal. It ampifes energy and many people pair it with their Moldavite jewelry. It's handmade in San Francisco with genuine Herkimer Diamond beads, approximately 4mm by 3mm. 
Herkimer Diamond Associations: 
- Chakra: Third Eye and Crown Chakra. 
- Zodiac: Aries, Sagittarius. 
- Element: Storm. 
Herkimer Diamond Properties: 
- It receive and magnify the influence of other stones and energy.
- It assists with purifying and cleansing to the energetic field by removing blockages and debris.
- It helps with detoxing the physical body and improving circulation. 
Beautiful!
I am in love with this necklace. It's classic, dainty and adds a good amount of sparkle to any outfit.
---
More from this collection