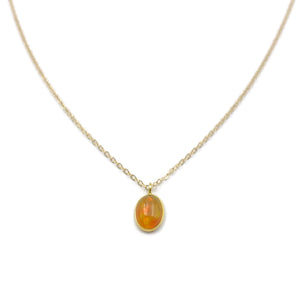 S for Sparkle
14K Opal Necklace
Regular price
$250.00
$0.00
Crafted from the beautiful, glittering gemstone opal, this 14K Opal Necklace is guaranteed to capture the attention of everyone around you. This piece of jewelry is crafted from genuine Ethiopian opal, giving it a unique sparkle and shine. The solid 14k yellow gold chain accentuates the opals color and adds a golden glow to the finish.
Details 
- Genuine Ethiopian Opal
- Ethiopian Opal size: approximately 9 mm by 6 mm
- 14k solid gold
-Single size 18"
Special Care for Opal
Ethiopian Opal is a very delicate gemstone. It requires special care. Water and body heat will change Opal's color.  You should never shower with Opal jewelry on nor cleanse Opal in water.  Remove your opal jewelry before you exercise as the your body heat and sweat will tarnish your Opal jewelry. Opal is also a very soft gemstone. We recommend you not layering your opal jewelry with other crystal jewelry. 
Opal Healing Properties
- Opal inspires creativity
- Opal helps connecting you to your higher self
- Opal assists the flow of transformation

Special Meaning for Opal
- Opal is October birthstone
- Opal is 14th Wedding Anniversary gemstone
---
More from this collection